COMBICLEANER – The "2 in 1"Complete Solution for Newspaper Presses
The COMBICLEANER cleaner concept is a combination of PAPERCLEANER and TECHNOCLEANER in one complete system.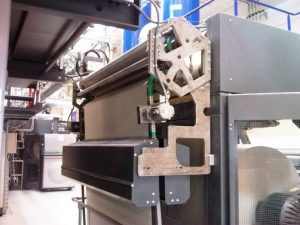 One unit per web installed behind the reelstand and out of the printing unit.
The process removes paper dust from the web and prevents any fast accumulation on blankets, inking rollers, and press components.
The blanket cleaning process uses the same paper as a carrier for a specially formulated micro emulsion cleaning agent which is sprayed on each side of the web.
The action of the paper running through the press cleans ink and paper lint from blankets , web path rollers, and dampening rollers very effectively.
The washing sequences are very short and optimised by the web cleaning.
Specific cleaning programs will wash the inking rollers, the web width changes and the common impression cylinders.
Advantages:
– One system per web
– Fully connected with the press
– Disengaged during splice and stop
– Quiet
– Neutrality on the press
– Out of the printing unit
– No mobile parts
– No friction with paper
– No friction with blankets
– No critical adjustment
– Automatic self – cleaning nozzles
– No spare parts consumption
– Open access to the printing unit
– One turbo per web
– High speed suction process
– Very compact unit
– Easy to operate
– One filter for 2 or 3 webs
– Compatible with slitter/ folder dust suction
– Very low consumption of solvent
– No other consumables
– Neutrality on paper waste
– No downtime for cloth rollers changing
– No downtime for maintenance
– Preventive action on paper dust
– Very short wash at any time
– Preventive action on press cleaning
– Consistent quality during the run
– Better environment for press and people
– Non VOC non volatile cleaning agent
– No solvent waste to get recycled
– Less ink waste to get recycled
– No more manual wash and rags